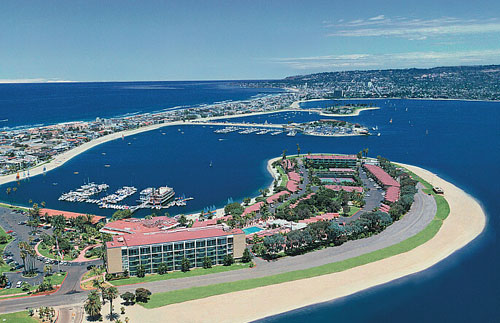 Registration
The 2011 Joint US-EU TTF Workshop will be held at the Bahia Hotel. There will be a registration/activity fee to cover meeting costs and refreshments and a separate fee for the meeting banquet (Luau) for participants and accompanying persons. We encourage persons interested in participating in this workshop to register as soon as possible and to follow the instructions given for payment of registration fees.

You must register at the Registration page. Once you register you will receive an email confirmation.
Guests or Spouses
Guests who wish to attend the Reception/Dinner must purchase a ticket.
Registration Fees
Early Registration (payment received by March 4, 2011): $195
Late or On-Site Registration (payment received after March 4, 2011): $225
Banquet (Luau) Fee (not included in registration fee): $65
For DOE-funded attendees: 34% of the registration fee is unallowable for additional food, beverages and facility fees.
On-Site Registration Hours
Tuesday, April 5 5:00 - 7:00 pm
Wednesday, April 6 8:00 am - 12:00 pm
1:30 pm - 5:00 pm
Thursday, April 7 8:00 am - 12:00 pm
1:30 pm - 5:00 pm
Friday, April 8 8:00 am - 12:00 pm
1:30 pm - 5:00 pm
METHODS OF REGISTRATION PAYMENT
Payment methods accepted include Cash (on-site only), Personal Check, Traveler's Check or Credit Card.
For registration payment, submit your registration through this Registration link. At the registration payment link select method of payment (cash, check or credit card) and follow the instructions for submission. Information regarding abstract submission will be provided via email after completing the registration..
Registration Cancellation/Refunds
A notification of cancellation and a request for a refund must be received in writing (email us at ttf2011@pppl.gov) by March 25, 2011. All cancellation/refund requests will be assessed a $25 processing fee REGARDLESS OF THE REASON FOR CANCELLATION.